House Insulation in Jackson, Brandon, Meridian, Vicksburg, MS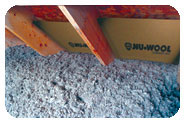 CleanSpace® of Central Mississippi is a Nu-Wool home insulation dealer to the Jackson, MS and surrounding areas, providing Nu-Wool WALLSEAL to homeowners and commercial buildings in areas like Meridian, Jackson, Brandon, Laurel, Vicksburg, Clinton, Pearl, Canton, Brookhaven, Madison, Ridgeland, Yazoo City, Philadelphia, Crystal Springs, Ellisville, Magee, Hazlehurst, Mendenhall, Forest, Carthage, Kosciusko, Florence and nearby Mississippi areas. For your free insulation installation quote with one of our contractors, call or e-mail us today!
The Nu-Wool Insulation Advantage
Nu-Wool WALLSEAL is a spray-in-place insulation product that's designed to help keep your home warm in the winter and cool in the summer, making it a more comfortable and energy-efficient space. When installed, it fills up the wall cavities in your home-- without the voids and pockets common with other insulation methods. Once installed, it forms a seamless bond within the wall cavity that will never settle over time, ensuring that all areas of your walls are insulated, and that they'll stay that way!
Nu-Wool WALLSEAL home wall insulation installs at a density of 3-3.5 lbs. per square foot, forming a thick, heavy layer of insulation with maximum R-insulation value in your walls. All Nu-Wool contractors and installers are factory-trained, certified for installation, and equipped with specialized machines that are designed for this specific application. Once finished installing Nu-Wool WALLSEAL and Nu-Wool Premium Cellulose Insulation in the attic, homeowners can save as much as 40% on their cooling and heating costs! And the energy savings are warrantied! Click to see the Nu-Wool Energy Savings Warranty!
Sound-Dampening Insulation
When a building is insulated with dense WALLSEAL insulation, its inhabitants will also enjoy the material's superior sound-dampening benefits. The sharp sounds that easily transmit through fiberglass insulated structures are dampened by the thick WALLSEAL system material. Nu-Wool WALLSEAL can be used to quiet the sound in laundry rooms, mechanical rooms, family rooms and walls containing noisy water pipes. In fact, many leading apartment developers and popular hotel managers are choosing Nu-Wool WALLSEAL in the walls for the best in sound control to keep their apartment residents and hotel guests happy. Get a Free Insulation Inspection & Estimate Now! We serve Mississippi, including Brandon, Canton, Collins, Jackson, and Madison, MS.
Mold-Resistant, Fire-Retardant Home Insulation in MS
All Nu-Wool Premium Insulation products are designed with a boron-based EPA registered fungicide, making it a mold-resistant insulation option for your home or commercial building in Mississippi, Under federal law, a claim of mold resistance can only be made by a product which contain a fungicide registered with the EPA for use in that product. Virtually no other insulation products but Nu-Wool contains such additives!
The fungicide used in Nu-Wool Insulation also works as an effective flame retardant. Many other cellulose insulation manufacturers add cheaper, potentially harmful sulfate based flame retardants. Nu-Wool's 100% boron treatment makes Nu-Wool Premium Cellulose Insulation a superior, more effective insulation system.
A Green, Long-Lasting Insulation Solution for Your Home
Nu-Wool home insulation is made from recycled materials! Over 150 tons of paper are recycled each business day at Nu-Wool — that's about 2,550 trees! Most of this paper is recycled newspaper, collected by non-profit groups like Boy Scouts, Girl Scouts, church groups, and civic clubs, as well as recycling programs.
Nu-Wool is environmentally friendly even in the manufacturing process. Fiberglass insulation is made by melting sand and recovered glass in gas-fired furnaces. It takes at least 8,500 BTU's of energy to produce a pound of fiberglass insulation. Cellulose insulation is produced by processing post-consumer recovered paper through electrically driven mills. Estimates for the embodied energy of a pound of cellulose vary from 150 to 750 BTU's. Converting this to BTU's-per-R, it takes at least 10 times MORE energy to make fiberglass insulation than to produce cellulose insulation.
Local Home Insulation Installers in Mississippi
Superior in its insulative performance, green in its manufacturing and materials, and a long-lasting, mold-resistant solution for residential and commercial construction, there's no home insulation quite like Nu-Wool WALLSEAL!
CleanSpace® of Central Mississippi would like to meet with you to talk about saving up to 40% on your home's energy bills through home insulation. For a free home insulation estimate in the surrounding areas of Meridian, Jackson, Brandon, Laurel, Vicksburg, Clinton, Pearl, Canton, Brookhaven, Madison, Yazoo City, Philadelphia, Crystal Springs, Ellisville, Magee, Hazlehurst, Mendenhall, Florence, Ridgeland, Carthage, Kosciusko, Forest and everywhere in between call or contact CleanSpace® of Central Mississippi online today!
Looking for a price? Get a no cost, no obligation free estimate.