Spray Foam Insulation in Jackson, Meridian, Brandon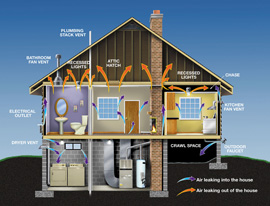 CleanSpace® of Central Mississippi provides spray foam insulation solutions for energy efficient designs. The product we use provides superior performance driven by the synergy of innovative minds and premium quality components.
Put the Benefits of Spray Foam Insulation to Work For Your Family!
Inhibits the Growth of MOLD
Stops air and moisture infiltration
Makes your home more comfortable
Saves on energy costs - Highest R-Value per inch
It is permanent and will not sag
Keeps rodents, bugs, dust and pollen out
Reduces capacity requirements, maintenance and wear of HVAC equipment.
Nu-Wool WALLSEAL is sprayed in place, eliminating the voids and air pockets common with other insulation materials. Density, or weight per cubic foot, which is important in reducing air infiltration and increasing
Effective R-value, is more consistent with the Nu-Wool WALLSEAL system. The builder and the homeowner can actually see the insulation in place and know that all of the areas in a wall are insulated.
The average American household spends more than 40% of its energy budget on cooling and heating costs every year. Much of the budget goes to heating and cooling air that escapes through windows, doors, cracks, gaps and crevices in their home's envelope.
Likewise, unwanted air seeps into a home because of inadequate insulation an inferior house wraps.
Unlike traditional materials, SPRAY FOAM INSULATION completely seals a home during the installation process because it expands to fill walls, crawls, attics and all exposed cracks and crevices in house's structure.
Once the air flow is stopped, SPRAY FOAM goes to work to provide many additional benefits to homeowners. Spray Foam has the highest R-VALUE per inch than other materials. It seals the paths that pests, pollen and pollution use to enter your home. And best of all, SPRAY FOAM protects your home from mold-generating moisture infiltration.
Keep the air that you've paid to heat or cool your home where it belongs -- in your home. Keep the extra money you've saved, where it belongs, IN YOUR POCKET, with spray foam insulation.
If you are planning for Home improvement, call us before you begin the start of your Home insulation project.
Spray Foam Insulation Service Area:
CleanSpace® of Central Mississippi is an authorized home insulation installer for all of greater Meridian, Jackson, Brandon, Laurel, Vicksburg, Clinton, Pearl, Canton, Brookhaven, Madison, Yazoo City, Philadelphia, Crystal Springs, Ellisville, Magee, Hazlehurst, Mendenhall, Florence, Ridgeland, Carthage, Kosciusko, Forest and the surrounding Mississippi area.
Looking for a price? Get a no cost, no obligation free estimate.