Crawl Space Vapor Barrier Installation in Jackson, Gulfport, New Orleans
Keep your crawl space dry with the award-winning CleanSpace® liner

Why Add a Moisture Barrier?
Controls Mold & Rot
Save Money On Utilities
Keeps Away Pest/Insects
Passive Radon Mitigation
Seals Away Odors
Increased Comfort - No Drafty Floors
Increases Home Value
Additional Storage Space
Many crawl spaces in Central Mississippi are moldy, foul-smelling spaces that homeowners avoid at all costs. They're often filled with debris left over from when the house was constructed. In more extreme cases, they can be rotting structures with rodents, animals, and other pests living within.
MidSouth Crawl Space Solutions specializes in making crawl spaces cleaner, drier, healthier, and more energy-efficient. The solution is to keep moisture out with the CleanSpace® crawl space vapor barrier. CleanSpace® is an attractive, bright, tough crawl space liner that's vapor-proof and warrantied against rips and tears.
Get started with a free estimate for your crawl space vapor barrier installation in Gulfport, Jackson, New Orleans or surrounding areas in Mississippi & Louisiana.
Advantages of the CleanSpace® Vapor Barrier
The CleanSpace® Crawl Space Vapor Barrier is the heart and soul of the CleanSpace® crawl space encapsulation system. This durable, bright white crawl space liner installs on the walls and floors, preventing water vapor and humidity from passing through. By keeping your crawl space dry, you protect your structure from mold and rot.
With a 25-year warranty against rips and tears, this durable 20-mil poly-reinforced crawl space liner converts your crawl space into a usable storage area. And with its mold-resistant additive "UltraFresh", CleanSpace® will never support mildew or mold growth on its surface.
There are several ways that installing a crawl space vapor barrier can improve your home's value, including:
Low humidity – no new mold growth and less pests
Warmer floors and lower heating costs
A healthier home that is less expensive to own
Steps to Installing Your Crawl Space Moisture Barrier
To effectively control moisture that enters from the damp earth, your entire crawl space is lined with CleanSpace™ to permanently separate your home from the ground. Our CleanSpace moisture barrier installation process typically includes the following steps:
Wood and organic materials are removed.
Rocks are removed and uneven surfaces are leveled (depending on the site).
CleanSpace™ liner is carefully fitted and installed.
Vapor barrier is permanently held in place with drilled-in fasteners and spikes.
Edges, seams, and pipe penetrations are sealed.
CleanSpace - The Ultimate Crawl Space Moisture Control System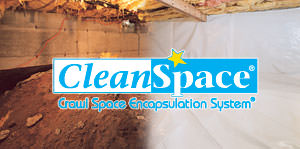 The CleanSpace moisture barrier is an essential part of a healthy crawl space and overall healthy home strategy. Your CleanSpace liner should be combined with our other products to control water, humidity, outside air infiltration and heat loss. We will recommend the best crawl space solution for your home. This can include:
Waterproofing: Flooding or water intrusion in the crawl space can be prevented by installing a crawl space waterproofing system, including a crawl space drain and sump pump system. This eliminates flooding water from your crawl space, but moisture can still enter directly through the concrete and floor in the form of water vapor.
Dehumidifier: Installing an energy efficient, self-draining crawl space dehumidifier will keep your space dry. Our crawl space dehumidifier system includes a filter that removes particles from the air as small as 2 microns. This ensures that your crawl space is protected from mold, dust mites, and mildew damage -- permanently!
Advantages To Our System:
Fast, Clean Installation
Patented, Warrantied Products
Save Money On Utility Bills
Gain Storage Space
For a free, no-obligation vapor barrier installation estimate in Gulfport, Jackson, New Orleans, Baton Rouge, Madison, Brandon, Meridian, Hattiesburg, Clinton, Ridgeland or surrounding areas in Central Mississippi, contact us by phone or e-mail today!
Looking for a price? Get a no cost, no obligation free estimate.