Home
»
Crawl Space Support Posts
Sagging Crawl Space Repair Near New Orleans, Gulfport, Jackson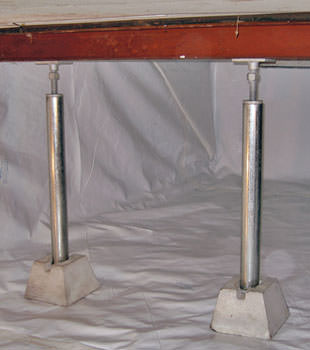 The SmartJack® system addresses crawl space problems based on proven techniques for foundation repair.
The SmartJack® Crawl Space Support System
Uneven crawl space floors are a sign that you have sagging floor joists. The experts at MidSouth Crawl Space Solutions have the perfect structural solution, crawl space support jacks. Our SmartJack® crawl space support system will provide durable support for failing and undersized crawl space joists. Restore security, stability, and straightness to your below-grade space with the crawl space experts.
If you are interested in scheduling a free crawl space repair estimate in Jackson, Gulfport, New Orleans, Hattiesburg, and nearby in Mississippi & Louisiana, call 1-833-231-8238 or click below today!
Advantages of the crawl space support system

Product Features
Holds loads heavier than 60,000lbs
Galvanized steel makes them corrosion resistant
Installs in limited-access areas
The ONLY crawl space support jack that addresses problem soils
If you want to achieve a durable, level, and secure floor above your crawl space, then you will need a solid mid-span support that is commonly provided by a post-and-beam assembly. Beams often fail, as they are undersized and comprised of wood that is subject to rotting, shifting and settling. Once your support posts sag, structural issues will occur.
The SmartJack® system provides a permanent solution to sagging crawl space joists, as they can be continuously adjusted to raise your floors back to a level position. During our crawl space repair system, we assure your below-grade space is dry and structurally sound, minimizing home damage overall and saving you money on costly future repairs.
The SmartJack® is also compatible with crawl space encapsulation systems, making it a good choice for homeowners wishing to eliminate moisture problems and improve home energy efficiency, while also solving structural problems.
The 'Bulb of Influence'
Were you promised durable crawl space support posts, but found that they are starting to sag and settle? Load-bearing soils are crucial in assuring a sound crawl space structural repair and that is exactly why the SmartJack® system can't be beaten.
While many contractors argue for digging deeper during a support post installation, we excavate a 2' by 2' hole that is then filled with mechanically compressed, crushed stone. The cube of compressed, crushed stone disperses the weight and presses down into the soil outwards, applying an engineering principle known as the "bulb of influence."
When the transferred weight reaches the soil, 90% of the weight has been reduced, meaning that even if your soils are not strong, they will be able to support SmartJack®'s bearing load.
The SmartJack® system can't be beat
Wondering how the SmartJack® stacks up against other crawl space structural repair options? The table below highlights the reasons the SmartJack® is the best choice for your home.
Crawl Space Joist Support Solutions

Additional Shimming

Concrete Masonry Unit (CMU) Columns

Light-Duty Jack Posts

The SmartJack® Crawl Space Jack System

Provides a solution for floor joist bracing that is spaced too far apart to provide proper support

Can be combined with a moisture barrier system to repair sagging floor joists and girders that are damaged by rot and mold

Are appropriate for installation in areas where the soils cannot support heavy loads, and would normally cause joist supports to sink

Can be installed without "overlifting" the foundation, which is known to cause additional structural damage

Adjustments can be easily and reliably made, should the joist brace settle into the soil

Installs in the home within a day

The girder jacks and joist jacks provide a high load-bearing capacity for structural support
Free crawl space repair quotes!
If your crawl space is sinking or sagging, MidSouth Crawl Space Solutions is here to help. We eliminate your sagging and uneven floors at the source, giving you a durable solution that restores your home's stability.
If you want to put an end to your crawl space repair problems, give us a call today at 1-833-231-8238 or contact us online to get a free estimate on crawl space support jack installation. We provide all our services in Hattiesburg, Jackson, Gulfport, New Orleans, Baton Rouge, Madison, Brandon, Meridian, Hattiesburg, Clinton, Ridgeland and throughout the surrounding areas.
Looking for a price? Get a no cost, no obligation free estimate.