The Turtl™ Crawl Space Access Well Installation in Jackson, Gulfport, New Orleans
Add an Easy, Safe & Clean Entry to Your Crawl Space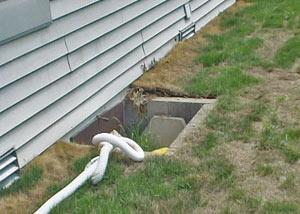 The Turtl™ makes ugly crawl space doors like this a thing of the past, providing an easy, clean, and attractive access to your crawl space.
Most crawl space access wells are ugly, unsightly pits. They're usually steel doors that rust or stick or wood doors that rot over time leading to leaks, mold, mildew and bug infestations in your crawl space.
The Turtl™ solves these problems and protects your home from water and moisture damage, keeping your crawl space safe, clean, and dry. The all vinyl construction is attractive, tough, and easy to install.
MidSouth Crawl Space Solutions is Central Mississippi's authorized installer of The Turtl™, serving Jackson, Gulfport, New Orleans and surrounding areas. Contact us today for your free crawl space access well estimate.
The Turtl™ - Ultimate Crawl Space Door & Entry System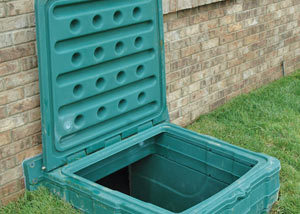 Made from reinforced plastic, The Turtl™ Entry Well provides an attractive, secure entry for the crawl space.

The Turtl™ is a high-quality vinyl crawl space access well that we offer as part of our crawl space vapor barrier system. Providing an airtight cover, it serves as a crawl space access well AND door combined! It is also moisture-proof and never requires painting or regular maintenance.
Made to replace those old concrete, wooden, or metal crawl space access wells, it's just what you need for a more attractive and long-lasting choice.
The Turtl™ Features & Specifications
Long-Lasting Durability -- The rigid vinyl construction will hold up to daily wear and tear. Its rigid plastic design ensures that it will never rot, rust, or need paint.
Lockable Design -- For increased security and protection, The Turtl™ can be secured shut with a locking device.
Three Attractive Colors -- The Turtl™ is available in green, brown, and beige colors.
Free Installation Estimates in Jackson & Central Mississippi
If you're interested in installing a new crawl space access well or completing any kind of crawl space encapsulation project, MidSouth Crawl Space Solutions has the experience needed to repair your crawl space and keep your home safe and dry. Call us at 1-833-231-8238 or contact us online to schedule a free estimate! We serve homeowners in Jackson, Gulfport, New Orleans and areas nearby.
Looking for a price? Get a no cost, no obligation free estimate.